Contact Form 7 Versus Gravity Forms
This brief article will focus on my experience using both Contact Form 7, and Gravity Forms; two very good plugins for WordPress that extend the functionality of your site by adding custom contact forms.
There is nothing wrong with using the basic contact form that may or may not come pre-loaded with your WordPress template. However there are very good reasons that a business would want to add more user input fields or even advanced fields like a file upload to their form. This is the situation where you will need to weight the pro's and con's of the many different contact form plugins available to you. Take a look at the difference between a gravity form and a basic integrated contact form as pictured below. Visually the basic form was modified with custom CSS whereas the gravity form was not.
Both Contact Form 7 & Gravity Forms are the most popular in their respective categories. One is free and the other is a paid plugin which brings us to our first showdown…..price.
Price: Winner =

Contact Form 7
---
Some people write code in their sleep and find it very easy to manipulate CSS, PHP, HTML etc. while others might find it more difficult. This is brings us to the second showdown…Ease of use.
Ease of use: Winner =

Gravity Forms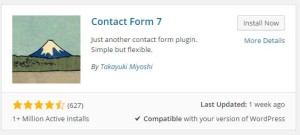 Contact Form 7 was the first contact plugin that I tried as it is free, and has a massive install base. I found it generally easy to use, however I did need to follow the read me and FAQ section to make sure I added all of my fields and other inputs correctly.
After an issue where the contact form 7 messages were not making it into a clients emails I looked into using Gravity Forms. The first thing I noticed is how easy it was to generate a form; I found it very functional and clearly labeled. I had absolutely no problems using Gravity Forms and was amazed at the process. I even love how the output messages look. After my experience I clearly understand why people say:
Gravity Forms is the most beginner friendly contact form plugin for WordPress.
---
Being able to add extensions to your contact forms make them even more useful which leads us to our third and final showdown:…..Extensions
Extensions: Winner =

Tie
It was very difficult for me to find a clear winner here as there are many advantages and disadvantages to both, lets take a look at what I found.
Contact Form 7 has so many third party plugin extensions that add a multitude of functions to it, and most are free. The biggest problem is that none of them are supported by Contact Form 7 and they can be difficult to find as a result. Also ease of use played a role in this as well since Gravity Forms and their extensions are still much easier to use.
Gravity Forms has some really nice third party extensions and would be the clear winner in this showdown however, access to all of their supported extensions requires the $199 Developers License. Very easy to use, but the price point is the only thing holding them back from winning this showdown.
---
Overall Winner:
Gravity Forms
So which one is my favorite? After my personal experience I will definitely be using Gravity Forms again as it is just stupid easy to use and it simply works great! I still like the fact that contact form 7 is free and see the advantages there.
So in summary you will need to find the balance between price and functionality to determine which Contact Form Plugin is best suited for your next project, you might end up using them both as I did. Thanks for reading our article and please share it with others if you found it to be helpful.