Full-Scale SEM and PPC Services for Your Business
Elevate Your Search Engine Performance With Our SEM And PPC Strategies
Schedule a Consultation
PPC Implementation
and Optimization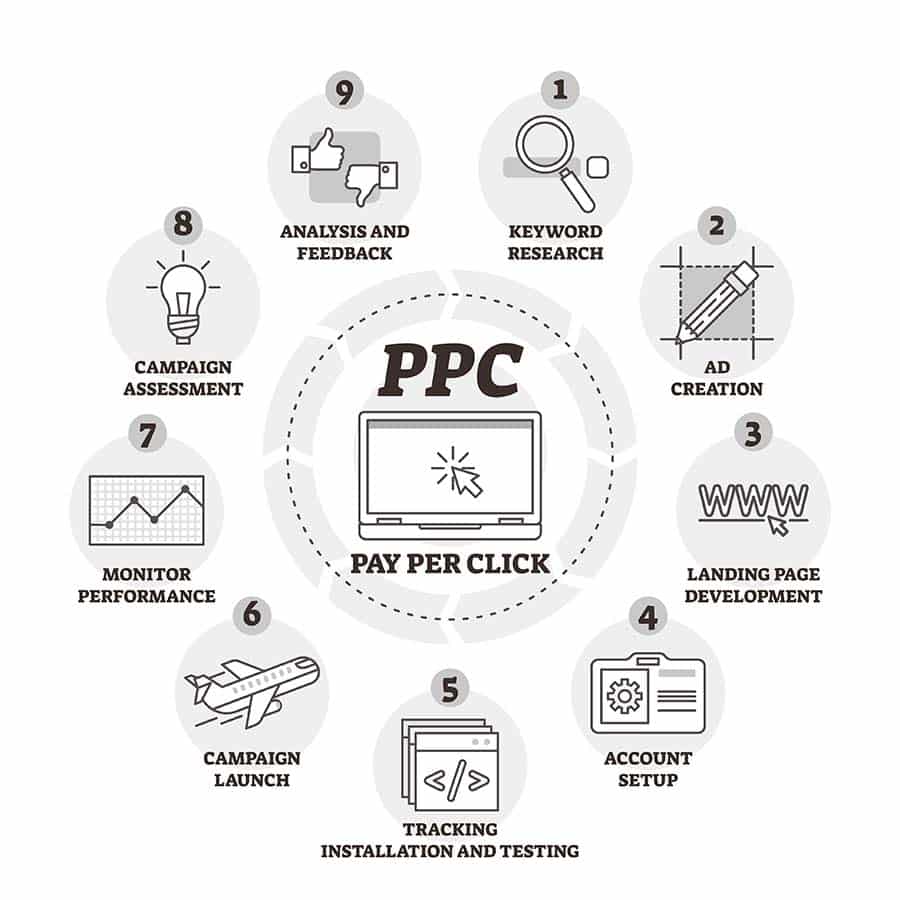 Pay-Per-Click (PPC) marketing involves advertisers paying a fee with each time their ad gets engagement. PPC campaigns help position your business in the sponsored link section of people's search engine inquiries. With our PPC techniques, we can get your business to the front of the line and drive more leads to your website. 
PPC Campaigns
that Drive ROI
There is a lot that goes into a strong-performing PPC campaign. Our team delves into each component and combines them to form an overarching PPC strategy that is guaranteed to drive results for your business. We will walk you through each phase and get your feedback to ensure we stay aligned on project goals and budget. 
Keyword Search
and Placement
We will conduct thorough keyword research to find the best words and phrasing for pulling viewers to your content. Once we have our list of applicable keywords, we will develop placement strategies that organize them in a natural way. We don't simply do "keyword stuffing" to try and cheat the system, and most search engines are intuitive enough to stay away from keyword-stuffed content.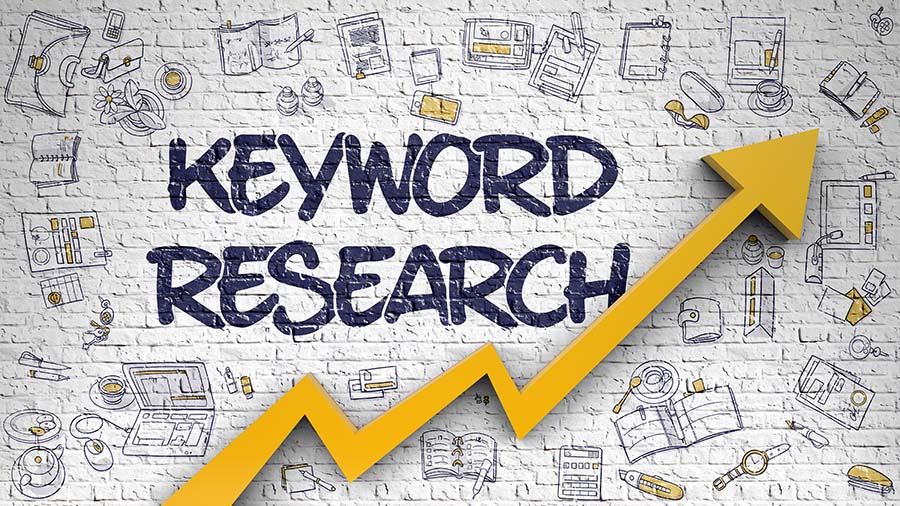 Your PPC ads need a landing spot. Our team will draft landing pages optimized for conversion through form fill data capture. This streamlines the process from initial ad engagement to lead conversion. It also helps build a database of customer data that can be used in multiple ways. We can also include relevant content takeaway items like eBooks, case studies, and white papers that demonstrate you as Subject Matter Experts (SMEs) in the field.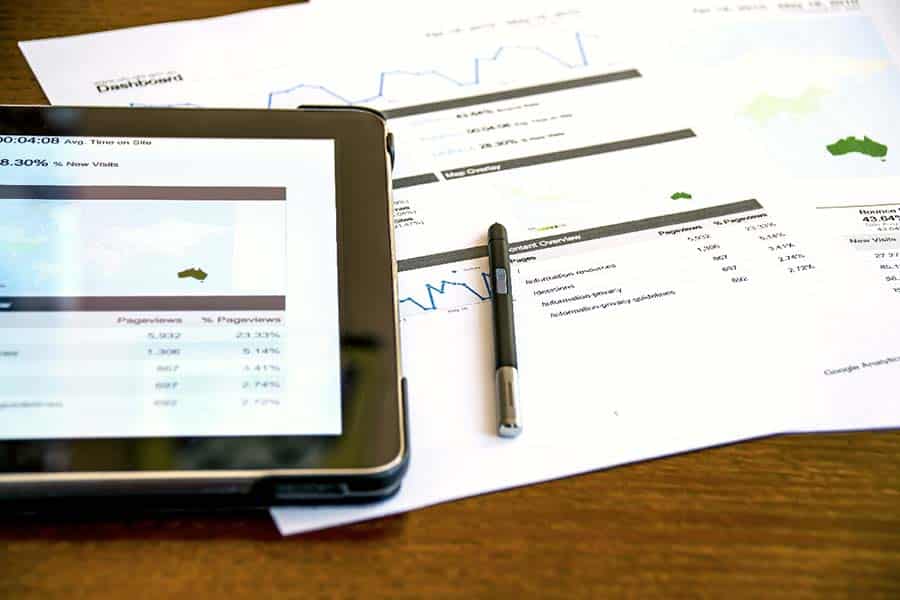 Google Ads is by far the most popular PPC advertising system. Working the Google Ads bidding system requires innovative approaches to PPC campaigns. Google selects winners from a pool of businesses to appear in their valuable sponsored link space based on a number of factors including:
Quality and relevance of keywords
Quality and relevance of content
Landing page quality
Size of keyword bids
Ad rank
And more…
The PPC experts at Blue Frog have helped multiple businesses land this coveted search engine space. We can help your business advance in Google Ads rankings to better position yourself. 
Developing a PPC campaign is only half the battle. Since Google Ads is constantly reworking their approach to selecting businesses for their sponsored link section, it takes a continuous management effort to ensure your campaign is adaptive. We can help with PPC campaign management in multiple ways, including:
Add/Remove Keywords:

 

We can expand the reach of your campaigns by adding new relevant keywords. We will also review your current keywords to assess their performance based on their cost. We will cut expensive keywords that are not performing. 
Split Ad Groups:

 

We can segment your audience into smaller batches to improve your click-through rate. This allows us to make better targeted content and landing pages. 
Edit Landing Pages:

 

Landing pages are not static. We can modify your LP content and calls-to-action (CTAs) to help position yourself within certain search inquiries. We can also A/B test landing pages to determine which method works better for specific items. 
We can also help with a broader approach to SEM, or your overall Search Engine Marketing campaign. SEM campaigns are multi-pronged and rely on several different techniques to boost your total digital marketing presence. PPC is a component of SEM campaigns and we can put a project together that will take your business to the next level.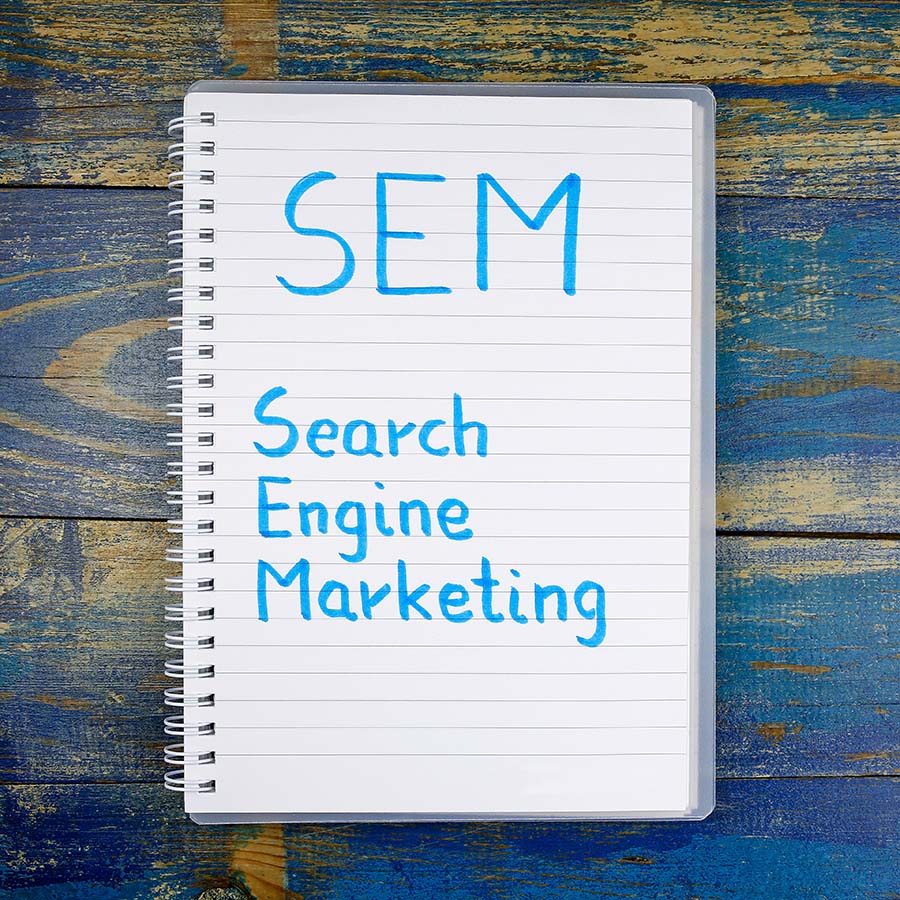 Difference Between SEO
and SEM
Understanding a Search Result (SERP)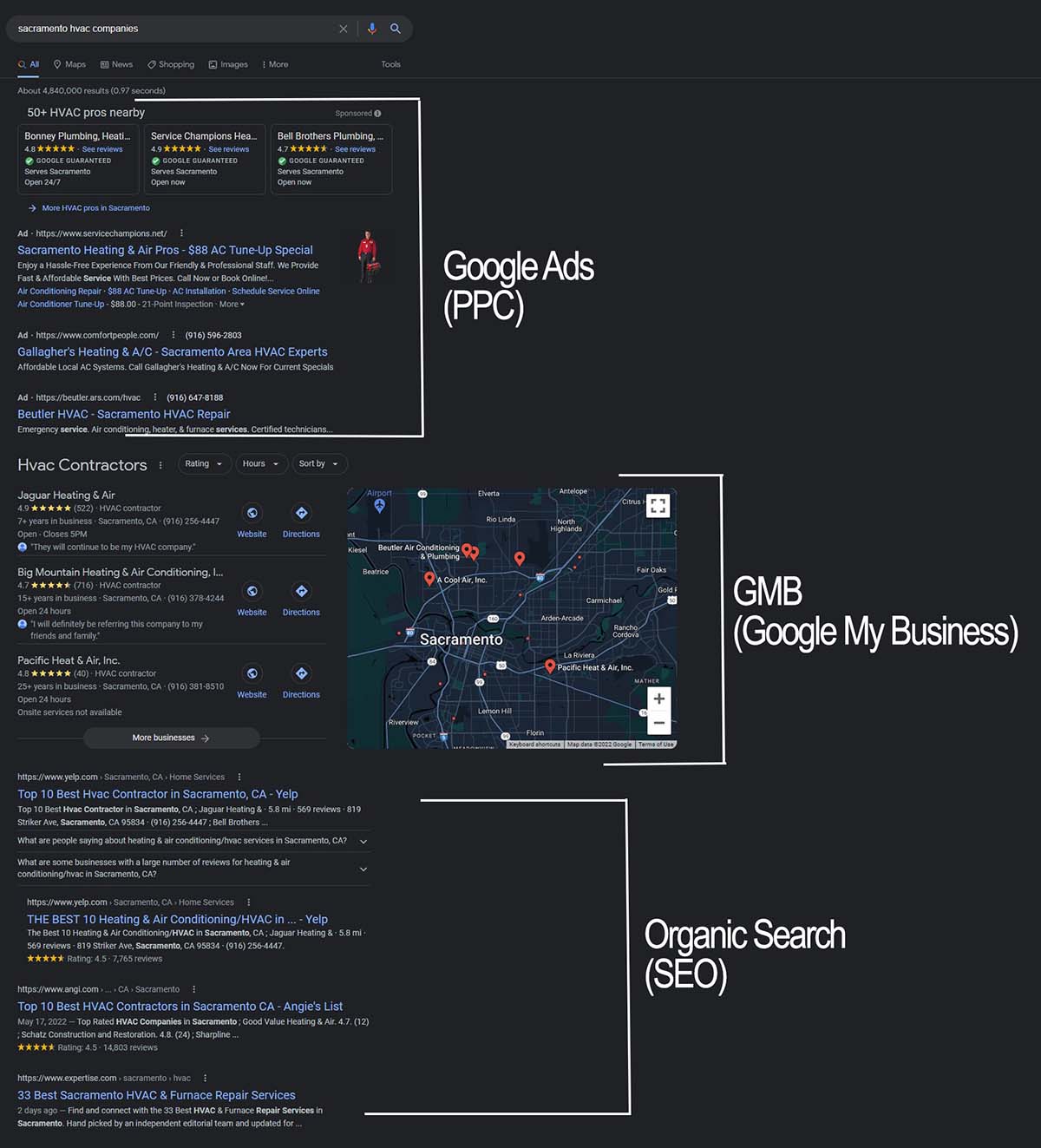 These two acronyms are sometimes used interchangeably, which is incorrect. While both lend themselves to digital marketing campaigns, there is a key difference. SEO, or Search Engine Optimization, involves creating and implementing strategies for organic online growth. SEM deals with paid advertising. SEO techniques are critical to building authority, relevance, and standing out, but it is impossible to make a splash without putting some money behind your campaigns. 
Located in sunny Sacramento, CA, we provide a full-scope approach to digital marketing services to clients nationwide. Some of our services include:
Web Design
SEO (On and Off-Page)
Inbound Marketing
Content Creation
Copywriting
PPC
SEM
Hosting and Domain Services
And more…
Our #1 goal is to give your business a strong online presence. We can take your digital marketing to the next level. We have worked with many different businesses and industries. Contact us today to learn more about what we can do for you. 
How Our SEM/PPC
Campaigns Work
Reach out to our team via phone, email, and form fill. One of our team members will be in touch to discuss your project in greater detail and set up a consultation. 
We will sit down with you to learn more about your business and project goals. We will also conduct a SEM audit to determine what current strategies you have in place, if any, and how we can make improvements. 
Step Three: Project Research
Step Three: Project Research
Our team will get to work diving into your field with competitor analysis and keyword research to determine what works and what doesn't. 
Step Four: Concept Development
Step Four: Concept Development
We will map out a path to successful campaign implementation with measurable progress benchmarks. This establishes accountability and keeps you up to date with our progress. 
Step Five: Campaign Launch and Monitoring
Step Five: Campaign Launch and Monitoring
Once ready, we will launch all PPC ads and keep an eye on their performance. We can make adjustments to your campaign as we get access to more data and performance metrics to ensure we are using the right keywords and approaches. 
Contact Us to Start Your New
PPC Campaign
Ready to take the first step towards outperforming the competition on Google? Contact the PPC/SEM experts at Blue Frog to schedule a consultation. We look forward to revitalizing your PPC campaigns to generate better ROI and get you more business!